Eco village, Moalboal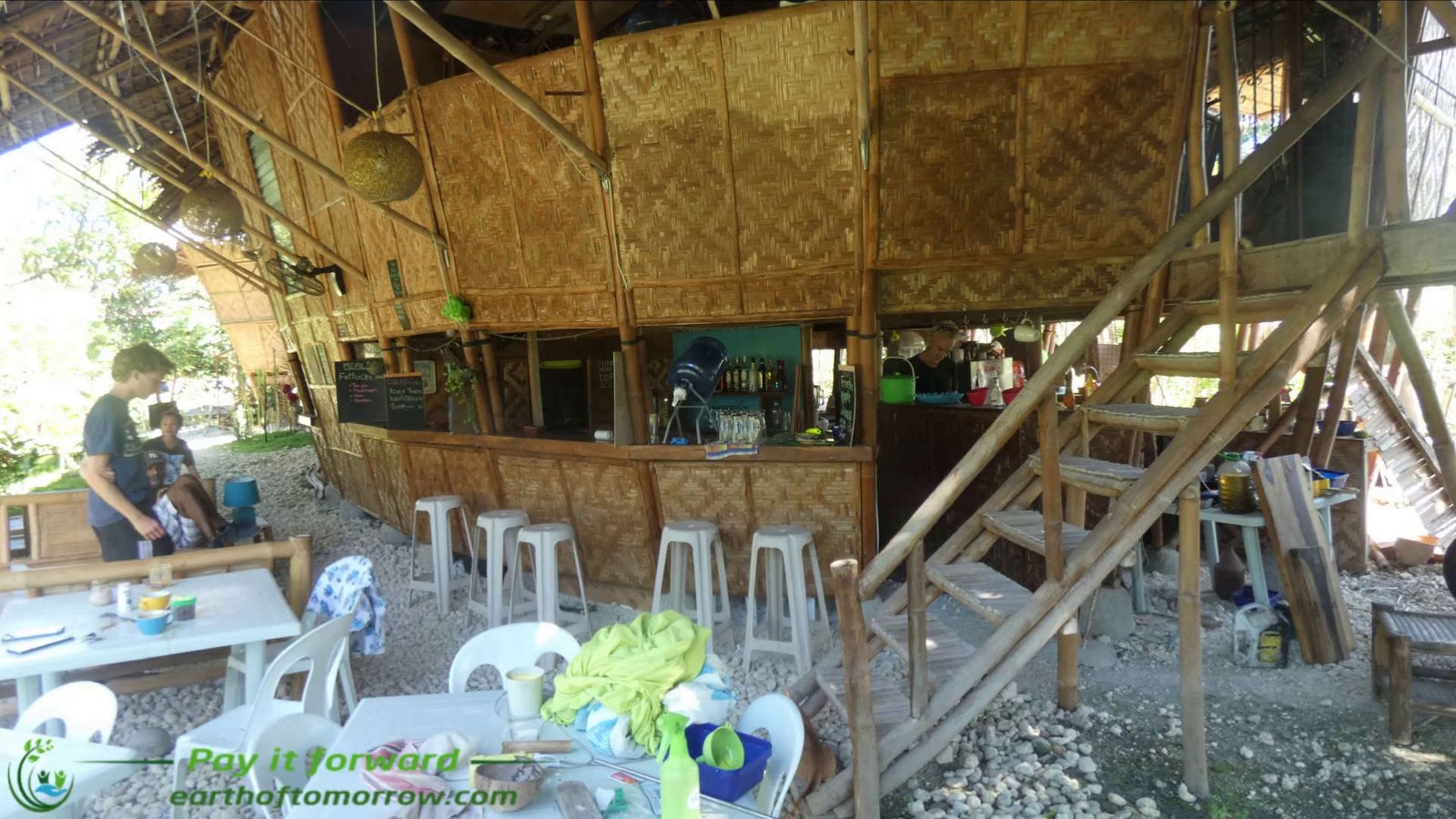 A review from Eco Village in Moalboal, Cebu. A very special stay but not for the reasons one might think.
Where do we even start on this one? It was the most surreal experience.
Let`s start with the beginning. Upon arrival we come into this beautiful green garden with an amazing native style building with bamboo. If you have seen the video you can see how amazing this place look.
The rooms are very simple with toilet and shower outside but you have a shared living space with TV, although you will spend more time you are on site in the garden. They have hammocks, places to sit and enjoy the surroundings and it is all good except the price for food and coffee. If I remember correctly the beer was in a good price range.
The problem with this place is not the site itself, it is the owner.
One night we were sitting outside, just Aksel, Jessa and him, he started slowly to talk about different conspiracy theories. I was intrigued about what this conversation would lead to so I listened and once in a while threw in a question or two. After what most have been around two hours his talking was increasingly intense and that was when Jessa excused herself into the room. After about thirty more minutes of this I started hinting that I needed to go to bed because we were getting up early, but he just kept on.
It was about powerful families, who really ruled the earth and for the last one and a half hour before I was finally able to pull myself away and join Jessa in our room it was about him being an archangel. One of 114 or was it 114.000? I do not really remember but what I do remember is that he thought he was on earth to save the humanity.
If conspiracy is your thing, or if you want to meet a real archangel, this is definitely the place to go. For me and Jessa we will not come back.
Also, for being an archangel, he really should not tell Agoda we never showed up. I found out because I got a message saying my stay was cancelled and when I asked him about it, he said it was so he did not have to pay the percent Agoda get for the stay since we booked through them. Very bad archangel.
https://www.youtube.com/watch?v=1TpNqV-_gjg
The place itself is a solid five on the dice but due to us thinking the owner is not in his place to have this type of interaction with guests and also we believe the owner is maybe not in his right mind and probably should be back in his country (Australia I think it was), the dice will be:
Also the dice reflects that he cheated the Agoda system and made it hard to leave the conversation we definitely did not ask to have in the first place. Him getting a three is because the place is beautiful and relaxing.
Team EOT
15.Sept.2020